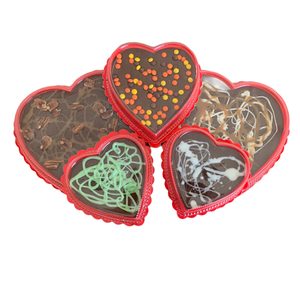 Gourmet Cream & Butter Fudge Hearts Wholesale
Regular price
$108.00
$0.00
What better way of saying, "I love you," than with a pound and a half of rich gourmet cream and butter fudge, custom poured into a heart-shaped container.
Chose how many you would like and we will make them fresh with a nice
assortment of top-selling flavors. These are specialty items so order
fast and order enough, they will sell quickly!

Flavour assortments: Turtle, Death by Chocolate, Heavenly Goo, Birthday Cake, Cookies and Cream, Reese Peanut Butter Cups, Mint Chocolate Swirl, Raspberry Cheesecake


If you have any comments leave them in the "Note" box in the cart.